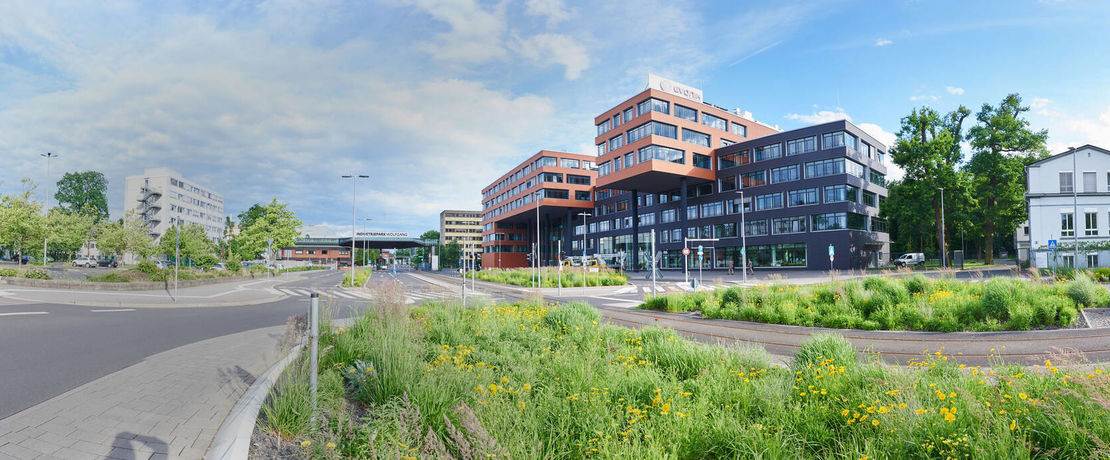 The future is built on the past
The history of the Wolfgang Industrial Park dates back to 1875, when the establishment of the Royal Prussian Gunpowder Factory marked the beginning of industrialization in Bulauwald near Hanau. 
The factory produced gunpowder and ammunition for the German Reich until the end of World War I. The Royal Prussian Gunpowder Factory closed at the end of WWI. When the Allies ordered the factory's destruction, only a few remnants of precursor products such as gun cotton and stick powder remained. A short time later, a chemist came up with a new procedure for turning gun cotton into synthetic leather. The Wolfgang Industrial Park used this opportunity to make a new start and became a center of synthetic leather production well into the 1970s.
In 1933, Deutsche Gold- und Silber-Scheideanstalt (Degussa) took over the premises. The Frankfurt-based chemical company further stepped up the synthetic leather production and gradually began to transfer individual departments from its company headquarters to Wolfgang after World War II. As a consequence of a far-reaching decision in the late 1950s, Degussa concentrated all of its research work in Hanau-Wolfgang. This decision set the course for the future of the industrial site, turning it into an innovative site for research and development.
Degussa merged with the newly established Evonik Industries AG in 2007. Today, Evonik operates the site and employs some 3500 employees at the Wolfgang Industrial Park, where another 2000 people work for other companies, predominantly in research and development.
In the site's laboratories and pilot plants, employees improve products and develop new application options for customers all over the world. With close to 160 apprentices, the industrial park is also one of the largest training facilities in the Main-Kinzig region. At the same time, it is an important manufacturing site. Evonik produces pharmaceutical ingredients at the Hanau site, which are used, for example, in antibiotics or pain medications. Additional Evonik products from Wolfgang include chemical catalysts that are used as reaction accelerators for numerous chemical reactions and reaction resins.